Hello everyone! It has been a while since I had made a post, and my apologies for that! For the past few days, I had been, for all intents and purposes, busy with work while at the same time diligently working on yet another craft project. Since the upcoming school term is approaching very quickly, I only have a couple of weeks left to get some major projects done as well as prepare myself. I had finally finished my latest craft project, but before I get straight to it, let me show you my latest haul from
Spring
! Though to be honest, it isn't much of a haul as it is a gift from my mother! <3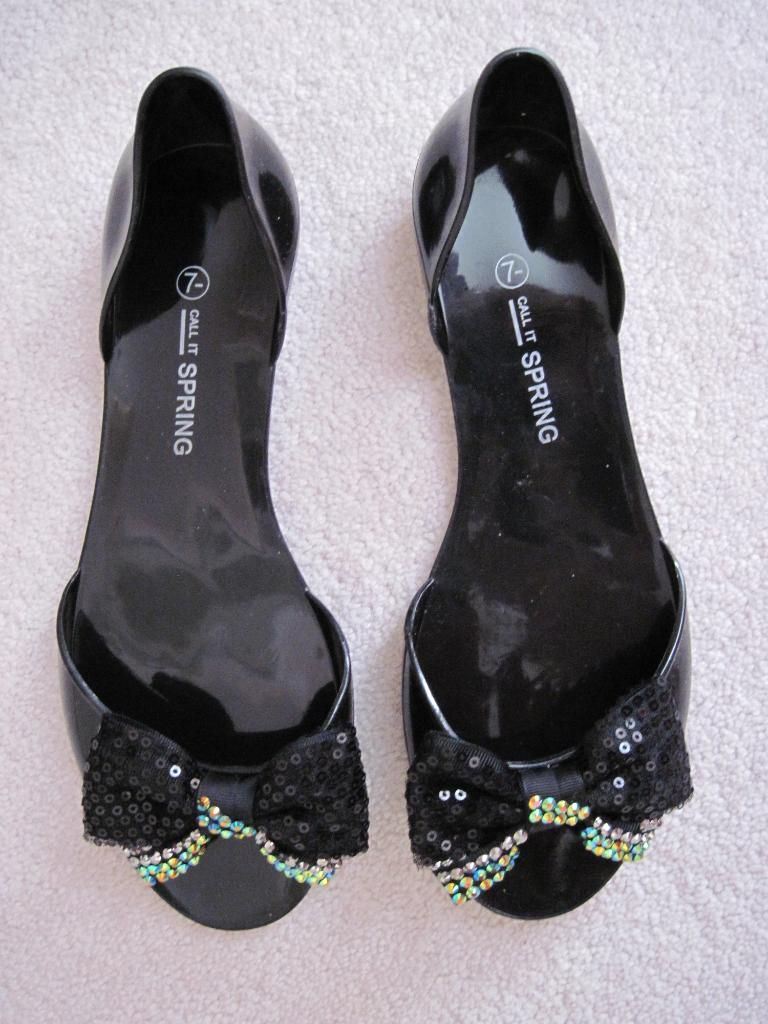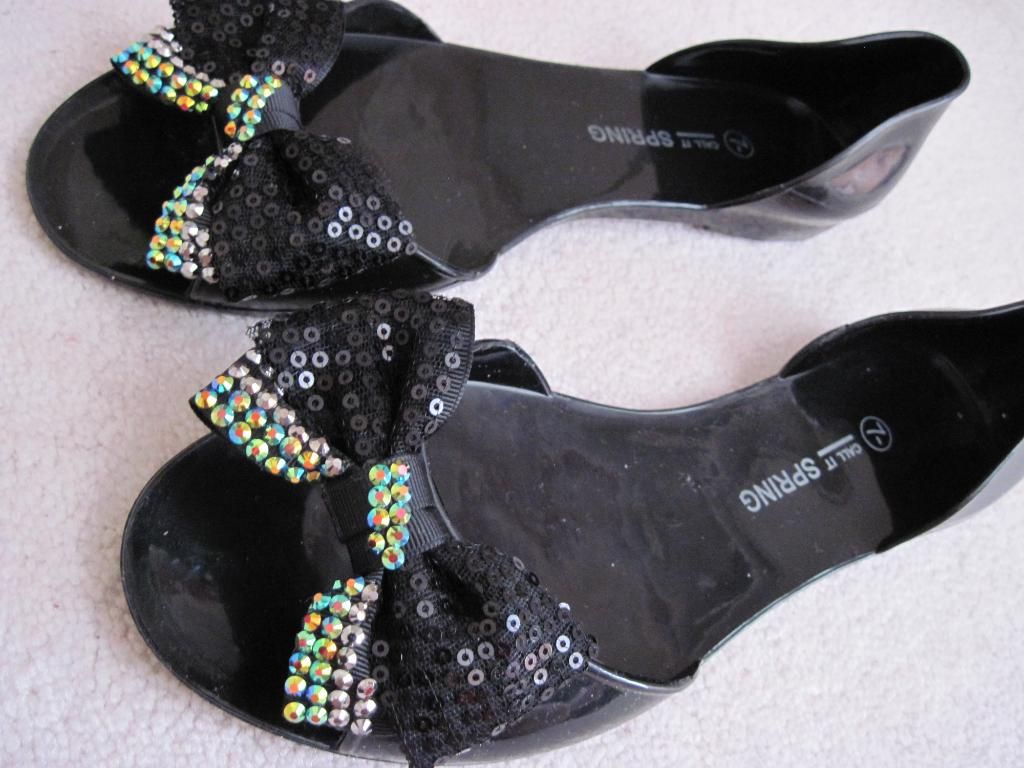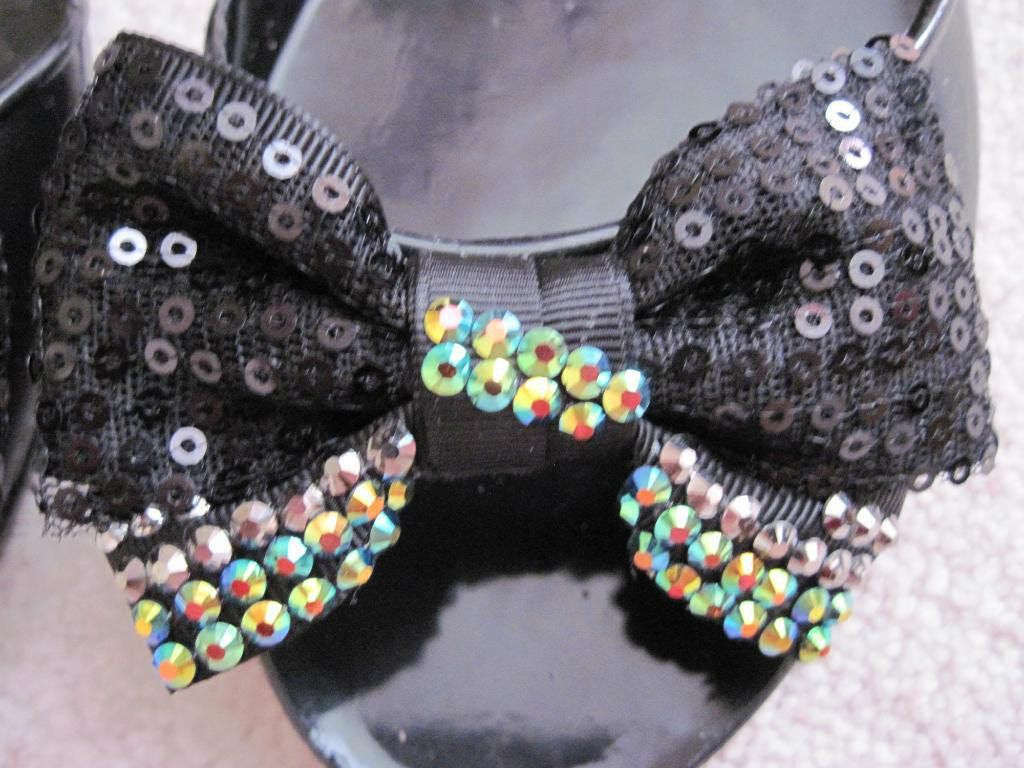 I needed some black flats, so I was so happy to discover that these pair in particular were on clearance for $7. I really love the sparkly black bows on the flats! So pretty! At the time, I was shopping with my mom and sister, so my mom wanted to buy these flats for me as a gift. When we went up to the counter to pay for our purchases, the sales associate told my mom and I that these flats are prone to slipping due to the plastic material that they were made from. The sales associate then offered soles for about $5 that you can stick on the bottom to provide some traction and grip to the flats, which I gotten anyway.
Now with that done, on to the tutorial! While still in the midst of decorating my room, I had gone and am still going through most of the themes/items that are commonly found in a Hime room. Teddy bears, bouquet of roses, Hello Kitty-related items, mirrors, etc. Not too long ago, I came across a style called Shabby Chic, which really seems to emphasize anything vintage and feminine. It then got me thinking. You see a lot of the previously listed common items in just about any Hime room, but what about less common items such as birds and butterflies, especially birds in particular? The bird theme or bird related items, such as birdcages and birdhouses, are commonly found in vintage styles and I believe that if done correctly, can also be incorporated into a Hime room. Also, if the Shabby Chic style can pull it off, why not Hime? Hence, a tutorial on how to make your own birdhouse wall decor was born!
Note: It could be possible that birds had been incorporated into a Hime room, but I honestly did not see them in any of the Hime room pictures that I had came across. Also, it could be that some Himegyaru had incorporated a more Rococo style room decor, but when I'm talking about a Hime room, I'm generally referring to a pink room that is full out decked in frills, laces, and roses.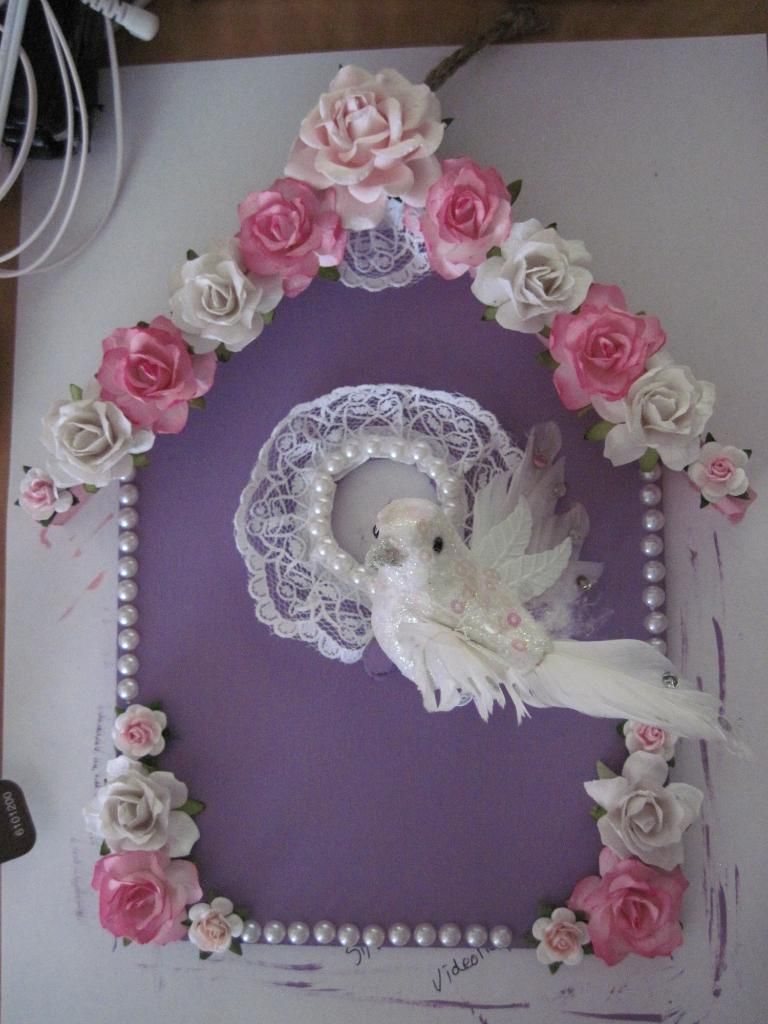 The end results
You will need...
A birdhouse plaque (might be a stretch, but you could possibly find them in your local dollar store)
Acrylic paint
Paint brushes
Small rose heads (I got mine from Wild Orchid Crafts)
Strand of pearls or flat-back pearls
Lace trim
A decorative bird (optional)
Hot glue gun
Sand paper
Step 1. First sand down your birdhouse plaque with sand paper so that the edges of your house will be smooth.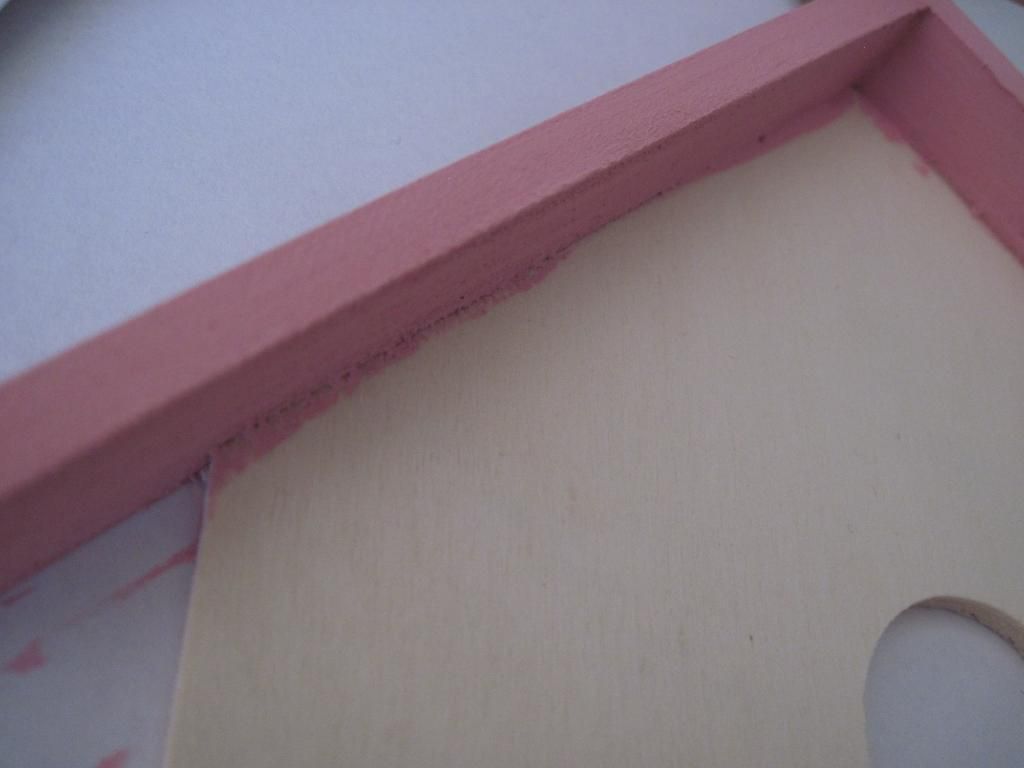 Step 2. Now this is where you start painting your birdhouse. The starting point on where to paint is really up to you, but for the purpose of this tutorial, the starting point will be the roof since that's where I had started first. Keep on painting the roof (both front and back) until you have an even coating across the surface.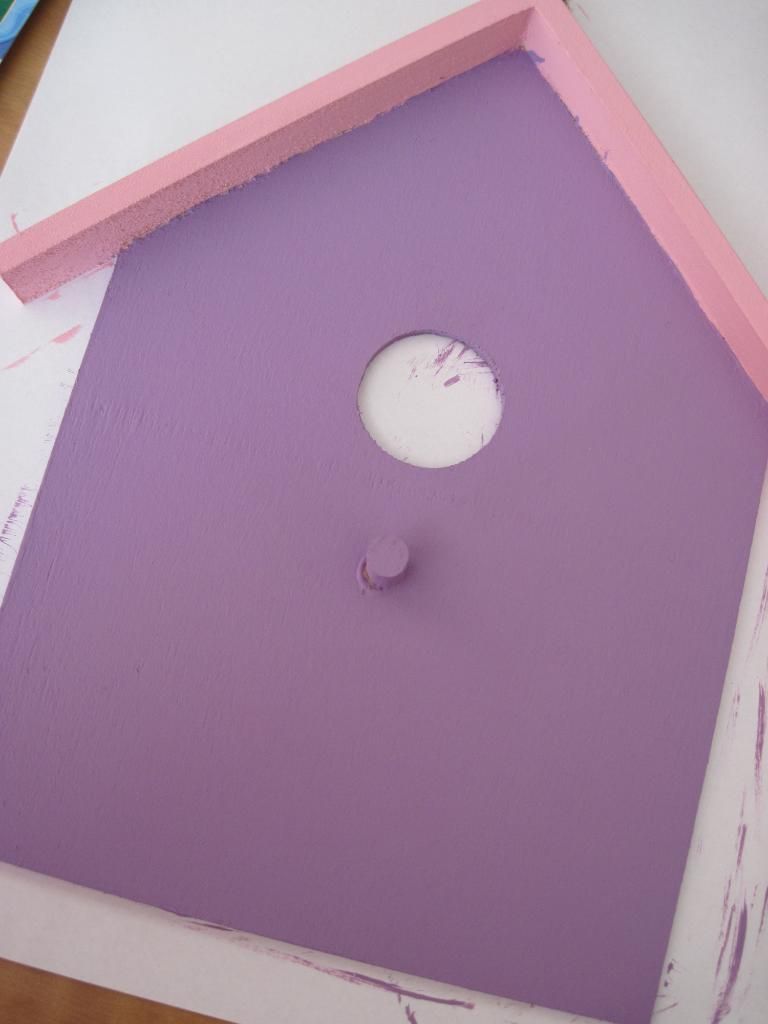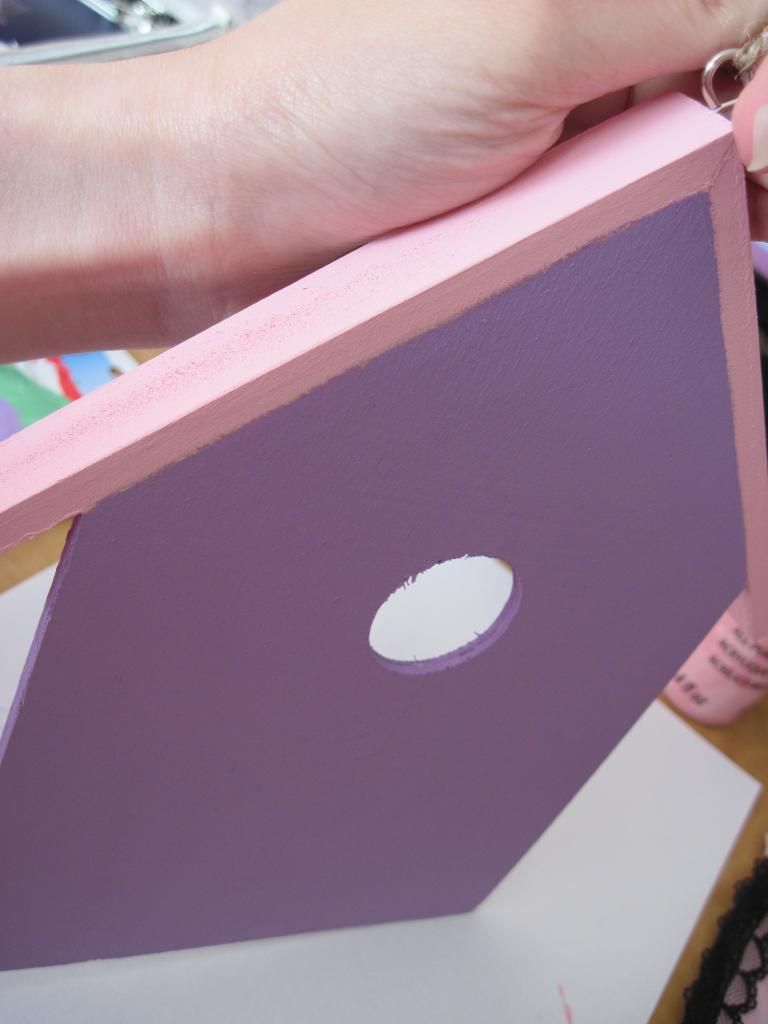 Step 3. After you finish painting the roof, start painting the rest of the birdhouse. Keep on painting both the front and the back until you get an even coating across the surface. You can use the same colour for both the base and the roof, but I had used a contrasting colour for the based compared to the colour used for the roof to make the roof stand out. Add last minute touches for any stray paint splotches or any paint overlaps.
Step 4.
Once you have finish painting the entire birdhouse, start decorating it with roses and laces. Now at this point, there is a lot of artistic liberty going on. Just about everyone has a different way of decorating their birdhouses and so it would make sense to say that every birdhouse would look different. How I decorated mine was I first added lace trim to the "top" of the roof for no other reason than to make the tip of the roof look pretty.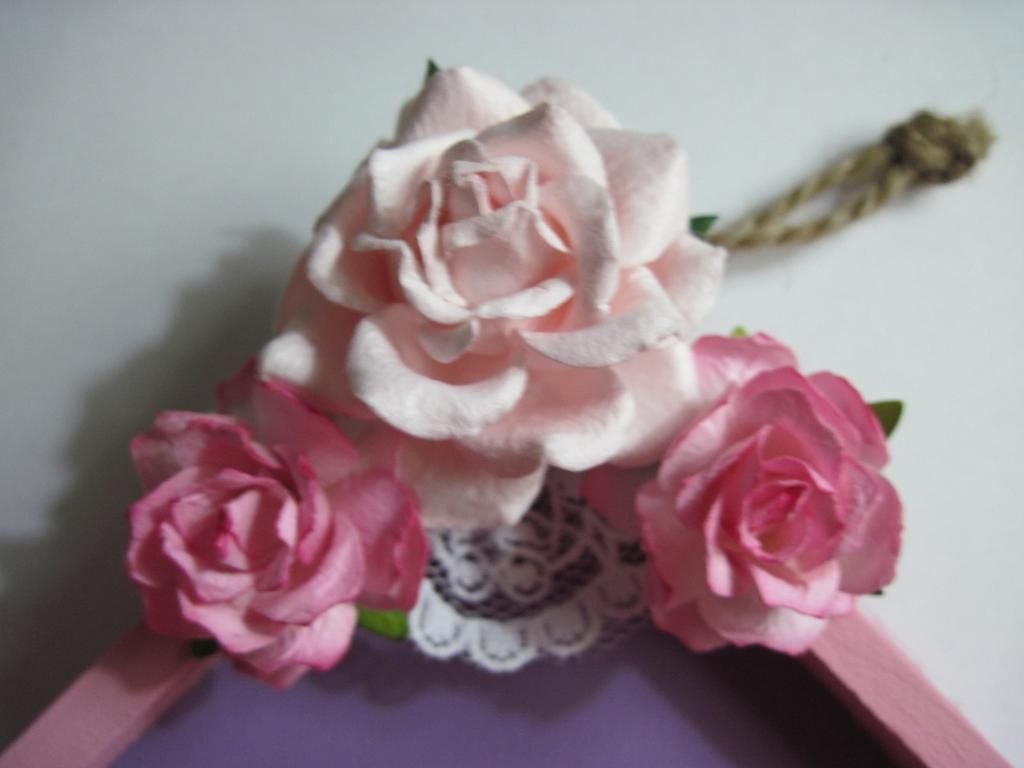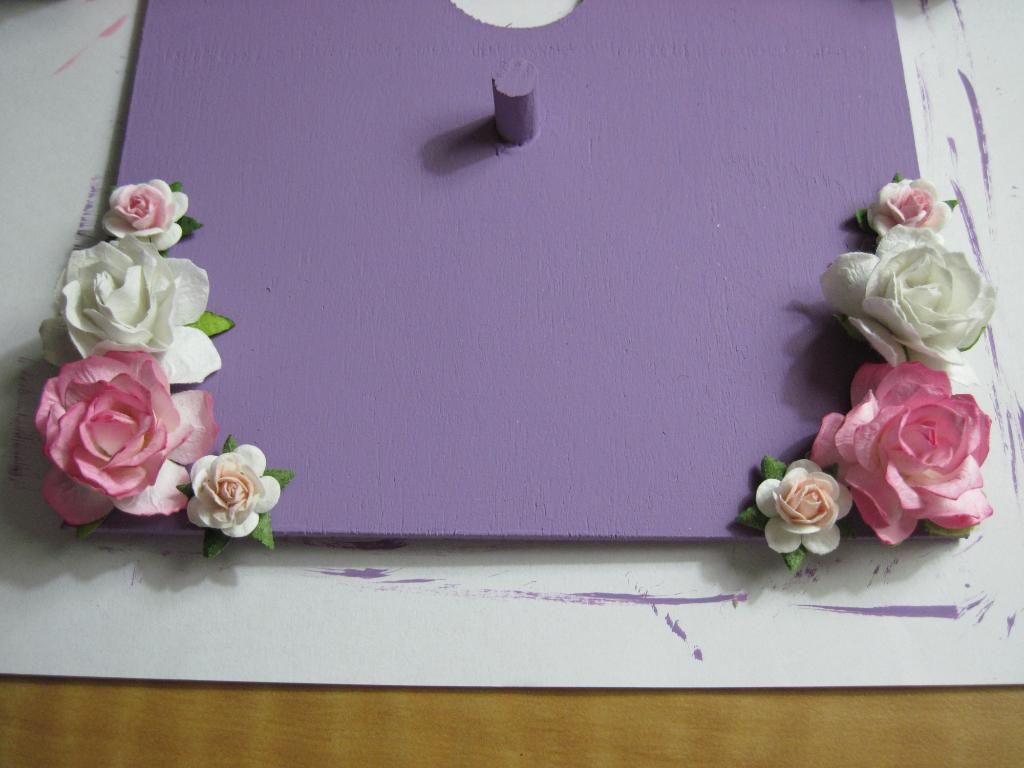 Step 5. Start adding on roses, preferably of different colours and sizes for contrast and variety of colours. Start covering up the roof along with the tips of the base with the roses. If you have smaller size roses on hand, leave them at the edges for a more "slimming" look.
Step 6. So now what? Lace trim and roses had been added, but it still looks a bit plain. So why not decorate the entrance? Add lace trim around the entrance to make the birdhouse more frilly and to give it more detail. To make sure that the lace trim is fully around the entrance, fold back the trim by a little bit to make it go full circle as shown above.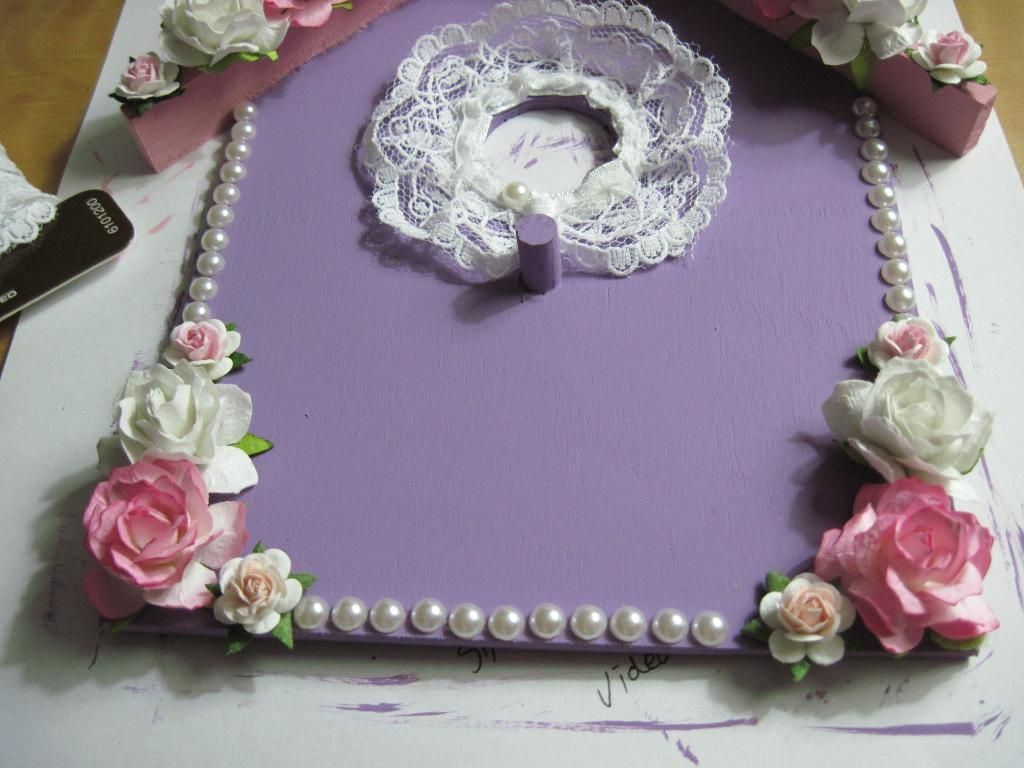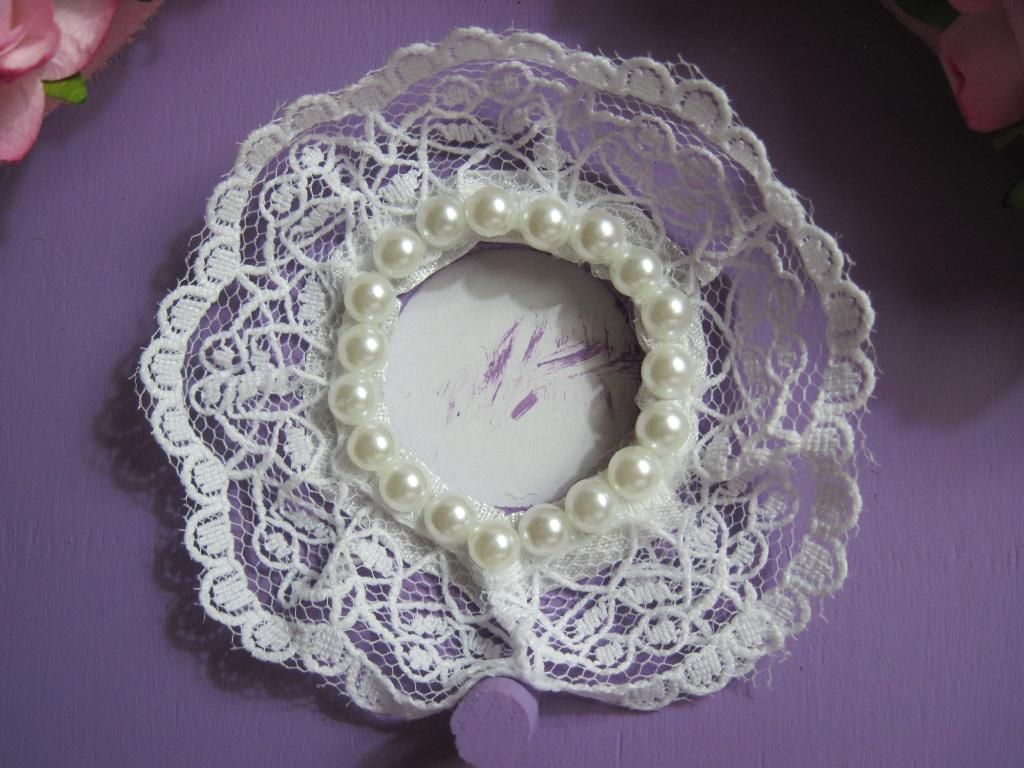 Step 7. Now that you have finish adding the roses and lace trim, it is time for pearls! Line the edges of the base of the birdhouse with strands of pearls to give it a more elegant look. Line the edge of the entrance with pearls to hide the folds made in the trim.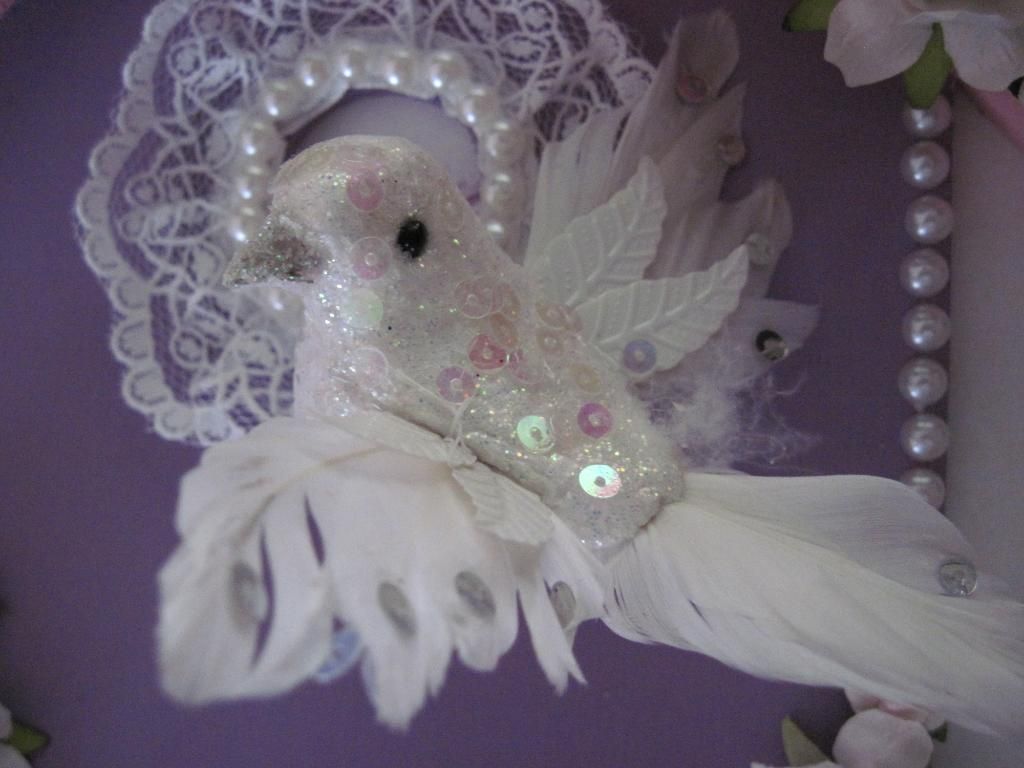 Step 8.
Finally, what is a birdhouse without a bird after all? If you have a decorative bird, glue it near the stand/entrance to make it look like it just got home from a long day out in the sun. Do not worry if you don't have a decorative bird however. Your birdhouse will still look just as nice without one. The bird is just there to complete the look, but not necessary.
Your birdhouse plaque is now finished and fully decorated! :) It is now cute enough to be proudly displayed in any Hime room!