Hello everyone!
Sorry for the lack of updates. I am currently undergoing what seems to be the busiest part of the school term. Project deadlines are fast approaching, final exams are looming closer, and assignments are just around the corner. Now I currently have enough time to make a short post before getting swamped by
yet again
the pile of schoolwork. So while I'm still alive here and blogging, let's get straight to the good stuff shall we?
What I had been up to for the past few weeks...
I had gone to Claires earlier around the beginning of November to see what new products they recently have in stock and of course their sale items. I absolutely love their sale items around this particular time of year, where they would usually have an additional 50% off certain clearance items. Now
that's
a sale!
Surprisingly enough I didn't buy anything on the first visit. I did see this pretty vintage floral cameo-like locket when I was first there, but I passed it off in favour of buying an earmuffs and glove set at Ardene. This was before snow had hit the ground and I had wanted to prepare myself for the upcoming winter. I felt that I could just buy the necklace later, since it isn't really "needed" at the time. I will post a deco post of the earmuffs and gloves hopefully sometimes soon.
Now it was on the second visit where things got a little different. After what seemed like a countless and tedious decision making process on whether or not I should buy the floral cameo locket, I eventually conceded and headed back to Claires to see if it's still there. It wasn't, so I ended up getting this sparkly heart set to make up for the time taken to get to Claires. Of course, being that it's pretty counts too and it's just
$5
! (It may not show in the pictures but they are really sparkly)
After that, I pretty much didn't buy anything for a while. I however did make some stuff, which are essentially more hime bows! *_* You can't go wrong with having more hime bows, though I'm not sure what I'm going to do with the lolita-like bow. I had originally planned on making it into a hair bow, but it looked a bit awkward while I was positioning it around my head so I decided to use it for something else. Any suggestions?
If you had seen my previous craft post, I had made some hime bows before. They were a lot smaller in comparison to the new ones I had made.
Apparently I had greatly underestimated the actual size of a typical JD hair bow. xD The one on the left is more size accurate, which I was really floored at, considering that I had never thought that their bows would be THAT large (but then again, this is JD we are talking about). For those who want to know the actual size, the dimensions are 19cm W x 7cm H.
Just last night I had finally received the earrings that I got from eBay! I had ordered them a while ago with the cash certificate, which wasn't really that much.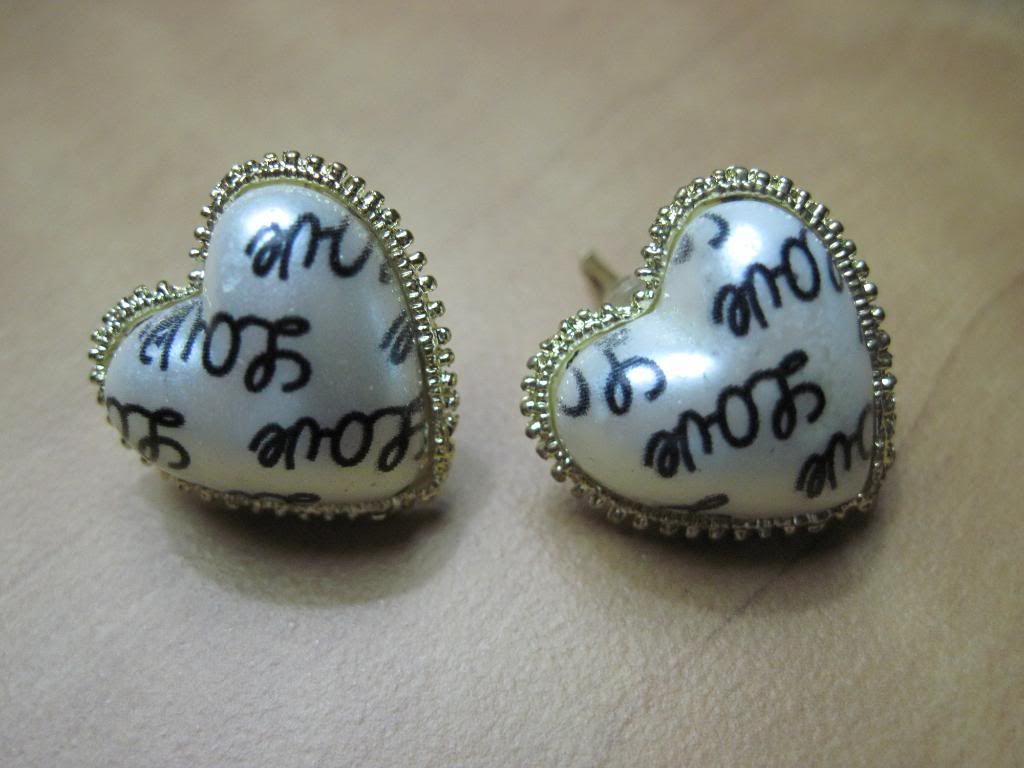 I love them, from the gold border to the curly love handwriting. They were a bit smaller than I had expected, but for around 99 cents and something that I didn't even pay for, I can't really complain.
Until next time!