This blog post is just a continuation from the previous review that I had done on Yumetenbo. The link to that blog post can be found
here.
Just like with the other part of the blog post, this part of the review is going to be just as extensive, though it will only "truly" be extensive in the sense of constant picture spamming of detailed product shots.
Shipping and Delivery Time
My package had arrived on
April 25, 2013
. On my previous post, I had mentioned that they had shipped out my package on
April 19, 2013
. With that in mind, this meant that the package had been in transit for about 4 days, which is shockingly quick, since the package was coming all the way from Japan. Then again, this might be part of the EMS shipping service, since a fast shipping time was and is one of the well known benefits of EMS. Overall, I am quite happy with the shipping time.
After being delivered, the package was huge! It reached up to about where my knees are, and I am a pretty tall individual. What I find surprising about the whole thing was that I did not actually get charged for duties, despite the fact that I had made a huge purchase of about 200+ CAD. Not going to complain. The package itself came in a good state, with all of the items either wrapped up in plastic bags (for the clothes) or stowed away in shoe boxes (for the shoes). There were some empty spots when I had opened up the package, but they were filled with crumpled up pieces of hard paper to stop the items from moving while in transit. Overall, I am quite happy with the packaging.
The Items Themselves
Before we start, I would like to say that this review is going to be a bit different from all of the previous reviews that I had done. For instance, I don't show the clothes being worn after buying them, but I am going to show them worn this time, since I felt that it is very important to get the sizing down for this particular brand line of clothes. In addition, it could help out anyone that plans on making a purchase from the store sometime soon and that are looking for information on sizing like I was. Just for a frame of reference, I am 5"6 and I usually wear a US size M. For this very reason, I had gotten everything in either a L or a LL, depending on the actual size measurements given out and the availability of the particular item at the time.
Princess Back Tiered Coat (L, Pink)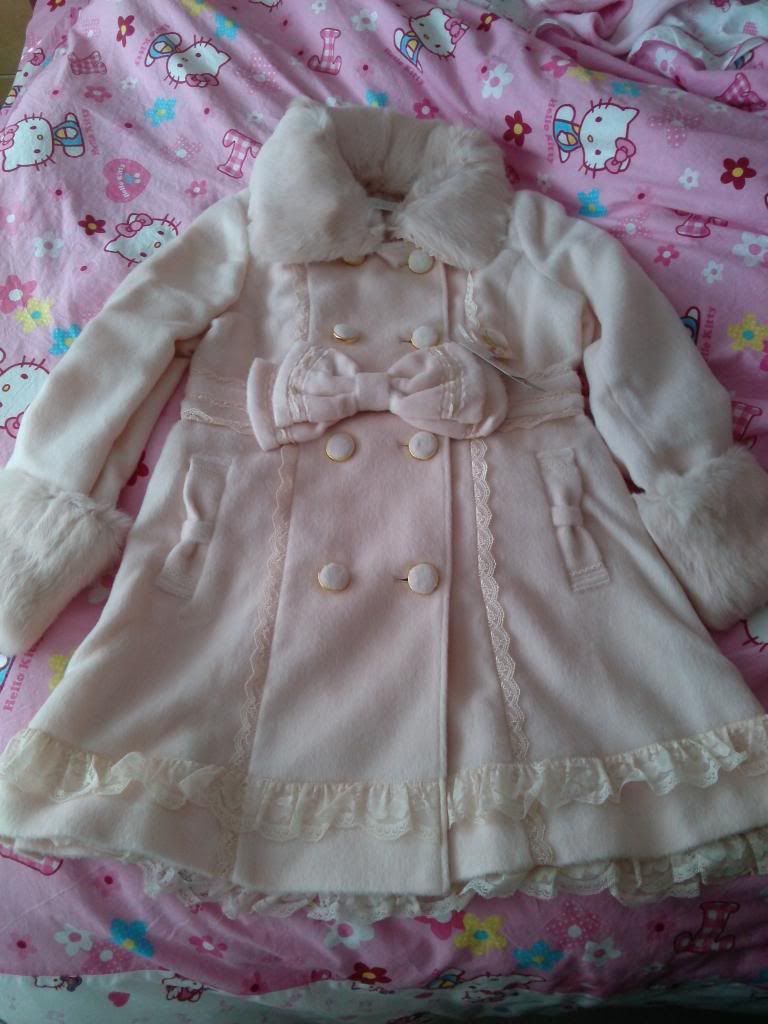 Pros:
Good quality, very detailed, moderately thick, comes with extra buttons, coat conforms with size measurements as posted
Cons:
Expensive (was still $80+ even after sale), buttons feels loose, feels heavy when lifting
Thoughts:
I have to admit, what had initially drawn me to this coat other than the super cute details everywhere was the tier on the back. At first, I was really worried about the coat being sold out in M in this colourway, since I really wanted the coat in that size and I had thought that it would be a bit too big on me. Eventually I had come across a post that had said that the coats were a bit on the small size, so I figured that it should be okay to buy it in a L.
Fortunately the coat wasn't that large on me. It is loose enough to be able to fit a sweater underneath or several layers of tops, for which is welcomed, since the Canadian winters can be quite harsh. The amount of details alone on this coat is really mind blowing. The coat has about everything that you could ever want in a hime coat: the back-tier, two bows on both the front and back, strands of pearls, faux fur, lace hem, bow pockets, and a lot of buttons. As you can see from the picture of the bag of extra buttons, there are exactly 4 extra buttons that can be used to fill up any "empty spots", which I am glad for. I feel that the buttons in general, especially the front ones are a bit loose, so I might just have to reinforce them. Just like with almost all coats that have faux fur on them, they can be detached for a more versatile look.
Overall, I really love the coat and I feel that it is well worth the money spent.
Bear Sweater Parka Dress (LL, Mint Green)
Detailed Shots
Worn Pictures
Overall, really love this dress!
Two Set Princess Leopard Bow Cardigan
Detailed Shots
Worn Pictures
Cardigan closed
Cardigan opened
Overall, really love the cardigan and I cannot wait to incorporate it into future outfits.
Ribbon Rose Sandal Heels
Detailed Shots
Worn Pictures
Low Wedge Ribbon Heels
Detailed Shots
Worn Pictures
Overall, I like these shoes.
Interchangeable Bow Lolita Boots
Detailed Shots
Worn Pictures
Overall, really pretty boots and I cannot wait to try them out for the next winter.