Hello everyone!
In the
previous post
, I had decided to do an in-depth online review on two of the shopping services I had used as well as post up the items that I had gotten from the services. If you have (or have not) already read the previous post, I had already covered Shopping Mall Japan and now will be doing an in-depth review on the second shopping service that I had used, Japonica Market! Hopefully this post won't be as long as the previous one.
Warning:
Long post up ahead. Keep scrolling if you want to only see the haul.
Registration and Ordering
Unlike Shopping Mall Japan, there is no registration needed for Japonica Market. In fact, in order to place an order with the service, you must contact them through email by sending them an email containing all the requested information on the specific item you wanted. What I really love about this process is that you do not have to register in order to buy something. I find that when it comes to registering, the whole thing is a tedious process because I don't tend to use most of the sites that I had registered with (unless I really
love
the selection and choices, such as Yesstyle). Of course, that doesn't mean that I do not like registering. It just means that I sometimes find it as an extra step to the ordering process. This is especially tedious if I am only going to use that website for only a few times.
After placing an order, you will eventually get an email from the staff, thanking you for your order and asking for you to wait a little longer so they can get back to you within 24 hours. In my opinion, I felt that they had excellent response time. They had immediately responded back to me within what I felt to be a couple of hours after sending the order and with plenty of time left to spare. At the time, I was very anxious about receiving the response, since the auction that I had my eye on had less than 24 hours left.
Payment and Bidding
After placing an order, there should be a request for a deposit, which they would also send to your PayPal. The amount of course will depend on how much the item(s) cost in addition to the PayPal conversion fee. Just like any other shopping service out there, they will not be placing a bid for you until they received the deposit. Of course they is also real time bidding, which in that case they will just not allow you to bid. Their fees and commissions are actually quite fair, since as advertised, they only require you to pay just one fee. The rest is just the standard auction price + shipping in Japan + international shipping + international PayPal fee. Now from a single standpoint, paying only one fee does not seem to make a difference. However, it suddenly sounds more appealing after having to pay for the processing fee, transfer fee, seller fee, etc. for Shopping Mall Japan.
For the bidding process, I find that it was a little disorienting to have someone to bid for you instead of placing a bid yourself. I was and am still pretty much used to having control over my bids thanks to the constant use of eBay. I was also not used to the maximum bidding system, since before I used to be pretty cheap and try to bid and win with the lowest amount possible! (I got better) After it was said and done (with progress emails in-between), it turned out that the whole process was not so bad. The person that was bidding for me did not automatically place the maximum bidding price, but instead went up slowly in small increments and then eventually placing down the maximum bidding price. Also, the person was nice enough to continue bidding for me and I did not have to continue sending additional deposits when I thought I had to from what I can read on their website. I was pleasantly surprised by that time. It was made better by the fact that I had won the auction.
After winning the auction, I was sent an invoice for the remaining amount plus commissions and shipping. This was what my invoice looked like: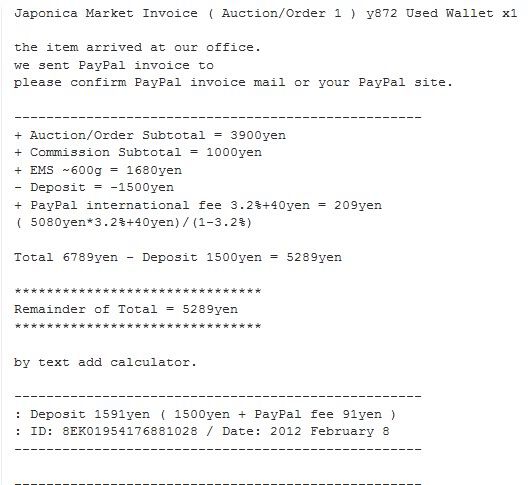 As shown in the above picture, there is the auction/order subtotal with the domestic shipping cost already included, commissions, international shipping, and the PayPal international fee. The total of course does not include the deposit that was already sent before the bidding process. The total spent was around $80 with the item price being around $40, leaving about $40 worth of shipping and commission fees.
Shipping and Delivery
After the payment was sent and received, the staff will send out the package. Their shipping options are very limited, offering only EMS and Registered Airmail. My package was automatically sent via EMS and just like any other EMS shipping option, the time the package spent in transit is very short and felt like it took about less than a week. The staff were kind enough to mark the package as a gift at the auction item price and had even notified me of it through email. The staff were also meticulous with the package, making sure that it was tightly wrapped with the standard foam paper and bubble wrap.
Overall
Overall, I had been quite satisfied with this shopping service and might possibly use it again if I am planning on making another purchase. As a recap, here are the pros and cons:
Pros:
No need for registration
Fast email response time (good for urgent orders)
Payment of only one fee (no handling or transfer fees)
Bidding in small increments instead of one max bid
No need to send additional deposits
Mark as "Gift"
Care with wrapping up item
Supports a variety of websites, including Mbok
Cons:
No real time bidding system (someone bids for you)
--------------------------------------------------------------------
Now that is done and over with, here is what I got! A used Jesus Diamante wallet!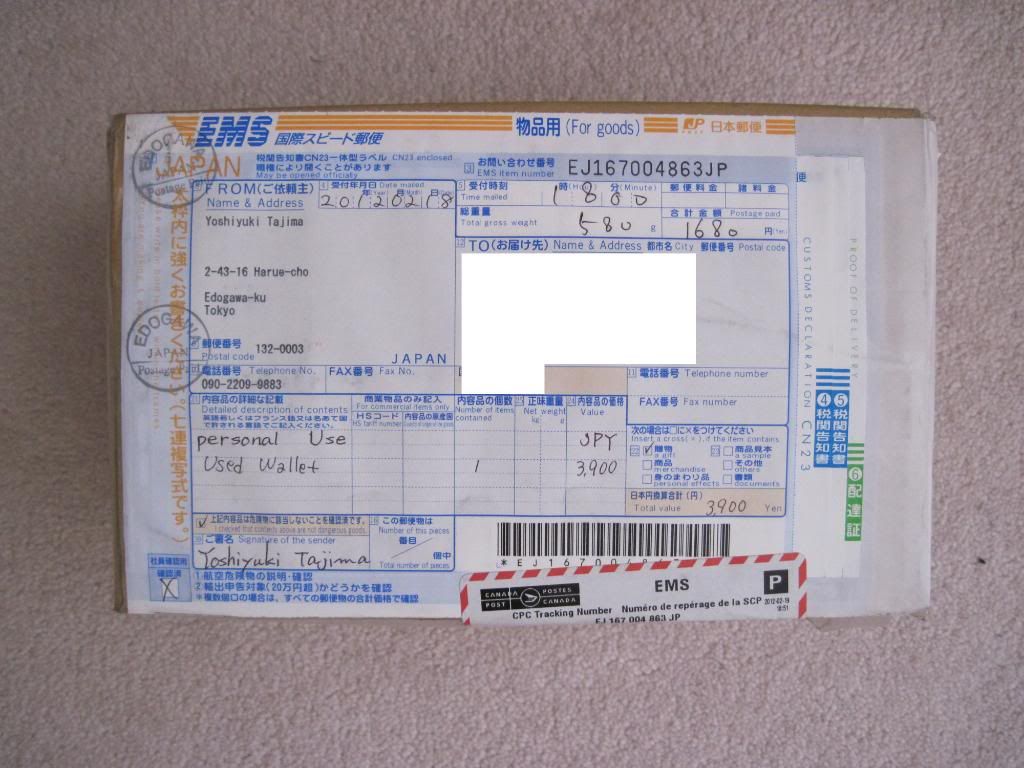 At the time when I had placed the order for the wallet, I was aware that there were going to be some wear and tear damage. However when I had actually received the wallet, the marks looked very obvious on some places, especially on the huge bow in the front, where there were some dark marks around the "curves". I had first rubbed down on the wallet with a damp rag to give it a bit of a cleaning and then what I did to remove the marks was simply use an eraser (which actually does work!).
Anyway, I hope that the reviews on the shopping services help you in your endeavour to getting access to Japanese goods. Personally for me, I am not planning on using a shopping service in a long time, since I am now restricting myself to a budget and will refer to Closet Child if I ever felt in the mood for more JD goods. Also, for those who read the first part of this post, this was the wallet that I was specifically referring to with the heart bag dilemma.
In the meantime, take care!